The Lovers' Week is coming to an end, and we think no one is talking much about it. There is a good chance though that the people who have love in their hearts for friends and family would still make an effort.
Anyway, the reason why Valentine's Day is so special is that it is not just about the people who are in a strong love affair. It is literally the day of Love, which means celebrating all kinds of love amongst all sorts of relations.
Don't you send corny Valentine's Day Messages to your friends? That is a form of love as well.
Most of the time, the younger generation is blinded by untrue misconceptions about love. Many are told that love is when you love yourself the most, removing the idea of selflessness.
Most are told that love is only when you find someone physically attractive, sending the idea of devotion down the drain. Many immature people also preach that love can only happen at first sight, which actually makes it a fling with a stranger.
Teenagers and even many adults tend to accept these ignorant and foolish ideas about love, which are ignored by emotionally mature people.
What is the true meaning of love?
The truth is many people spend their lives misjudging respect, fear, and the benefits of love. In reality, love is there from the beginning when a person is born.
Love flourishes first in the family itself, and those who love their family dearly need not go looking for love in meaningless relationships. And talking of family, love develops fastest and strongest within the heart of parents for their child.
There is especially no ill will in the heart of a mother looking at her newborn boy or a father holding his newborn daughter.
The love between parents and children is the most sacred form of love that the kids start to ignore as they move towards their teen years. And most of the time it is a bad time for the father if his daughter ignores his love for her.
This is what we're here for. We know your daughter is the most precious lady in your life and you'd be more protective of her than you are of your wife.
This is why you need to know that Valentine's Day is also an opportunity for daddies to show their pure love to their girls. Let's get going with the Valentine's Day preparations.
What is the importance of a father's love for his daughter?
A man might fall for infatuation many times in his life, but after finding true love, he falls only twice. Baffled by the mystery? Let us clarify.
A man is always going to love the woman of his life and be the one woman man. However, a change occurs in his lifetime, shifting his love from his wife to another.
Don't frown yet. This other female is actually brought into existence by the husband and the wife. Yes! You guessed the cliche; it is the daughter.
Once a daughter is born, the father instantly has the feeling of deep love, devotion, and protection for his baby girl. This is because men are always protective.
The inbuilt thought process has led them to be a protector to any woman or girl associated with him in any way. They have been troublesome yet protective brothers to their sisters, a strong man for their wives, then a caring and protecting fathers to their daughters.
They know that his daughter is a piece of him and that being a girl as she grows old will have a lot of probable dangers in the outer world. Hence, God help any of those boys trying to steal her away from daddy.
Due to many distractions and media, however, girls tend to miss out on their father's love, which makes Valentine's Day as important for the father-daughter relationship as it is for husband and wife. Yes, you can go for a family dinner with your girls and boys to show love.
What is the significance of Valentine's Day?

Saint Valentine | Via Wikimedia
Well, just in case your daughter throws this question when you tell her Valentine's is not all about making a boyfriend. You certainly should know the answer to- why Valentine's Day came into existence. So, here's the history.
In 3rd century Rome, there used to live a catholic saint named Saint Valentine. Saint Valentine was one of the first saints of Christianity and probably the only one in ancient Rome.
The Roman Empire was then ruled by Emperor Claudius, who was against the virtues of Christianity. Thus, he set rules for Christians on what they can and cannot do. He also believed that the Roman soldiers needed to have a moral obligation only towards their Emperor and Empire.
He then decreed it a crime for Roman soldiers to marry. But love always finds a way and in that time of confusion, St. Valentine came ahead to marry the Roman soldiers to the women they loved.
When Claudius got to know about the treachery of his soldiers and Valentine's notoriety, he immediately imprisoned many of his soldiers and Valentine for breaking imperial law.
When in prison, St. Valentine, a devout and morally driven catholic, helped and took care of all the other prisoners. Along with the prisoners, he also took care of the jailer's daughter who was blinded in an accident.
He always helped her and took care of her without anything in return, depicting the meaning of purity in love.
It is said that before he was executed, he had cured the girl's blindness with prayer and devotion. The last thing that he did was to write a letter to the jailer's daughter signed "Your Valentine". On 14th February, St. Valentine became the first martyr of Christianity.
His story was an example of love and caring. It is an example for today's world that love is not necessarily wanting something in return for a little affection but a way to show humanity and mercy upon another human being. Which makes love non-exclusive and important for every connection that you make in life.
Why is giving gifts to your daughter important?
The main reason is to show that you love her but there are other things that it could do for your relationship with your daughter.
Makes her feel loved
Especially for fathers of teenage girls, it is important to show her that you value her. Teenage girls go through a lot of mental changes, and working parents might make them feel like she's being ignored or isn't loved enough.
This is the chance for strangers guys to take their chance at breaking her heart. So. this Valentine's Day, give a thoughtful gift to your daughter to let her know that no one is going to love her more than you.
Builds respect in the relation
The modern age has taken away the most important part of a family relationship- respect. It is important in a father-daughter relationship that you build respect.
So, if you, too, have been thinking that your daughter seems to be cross and unresponsive at times, gift her something that makes her feel that you respect her. It will not only make her feel wanted but also instill respect for you as a father who cares.
Lets her know that you have time for her
In the age of social media, parents have started to let the iPad take care of their children. When you can't give time to your children due to work, it builds rebellion.
Giving a thoughtful gift to your daughter is important because it will let her know that despite your busy schedule, you still have time for her and think of her in the most beautiful of ways.
We have combined a list of products that can be a nurturing gift to your daughter. On Love Catalogue, we love to share the things we love with our audience. It is all about sharing and caring.
So, what are you waiting for? Select a gift for your daughter from this amazing listicle.
35 Daddy Daughter Valentine Gift Ideas You'll Definitely Love
Wooden Music Box

Harry Potter Music Spielbox | Via Needpix
These music boxes have recently taken over the gifting stores and are really unique. They give out a renaissance time feel and are the cutest gift you can give to your daughter.
The music box is made out of wood and has an old-time musical drum that chimes out your favorite tune. All you have to do is go on themusicbox.store and customize your own musical box.
You can add a loving quote on the lid or a photo of you and your daughter. You can choose from the many melodies like 'You're My Sunshine' or 'I Loved Her First.'
Favorite Daughter Shirt
There is no better way to assert your position as daddy than gifting a cringy shirt to your daughter, and if she loves you, she'll adore it. The perfect shirt does exist for the same reason.
It is the shirt that says 'favorite daughter' or 'best daughter' in a colorful font. Get to Etsy and look for your favorite daughter's shirt. The cute font and comfortable fabric will make her feel like daddy is hugging her.
Valentine's Day Sweatshirt
Clothing is certainly the best gifting idea if you ask us. It stays for a long time and reminds the receiver of your thoughtfulness for them. Hence, we suggest this pink dripping Valentine's Day sweatshirt.
It's alright if your daughter doesn't like pink so much. The Etsy store has other color and print options. Choose one that you think will look the most gorgeous on your daughter and surprise her.
Pink Sugared Almond Gift Box by Laduree Paris

Sugar-coated almonds for nourishment and sweet teeth | Via Laduree
What is the most important job of a father? It is providing nourishment to your children. And what could be better nourishment than almonds that develop your daughter's brain and body while also tickling her sweet tooth.
This Pink Sugared Almond Gift Box by Laduree Paris has the goodness of almonds and the sweetness of organic sugar coating on top.
So, every time she pops one for the sugar cravings, she'll love her daddy more. However, we suggest you confirm that your daughter doesn't have a nut allergy before giving this to her.
Laduree Gourmandise 24 Macarons Gift Box

Assorted colors for all her cheery moods | Via Laduree
Not all kids like nuts, and some even have allergies from nuts and seeds. Laduree understands this and has another choice for your daughter's sweet tooth.
The Gourmandise Macarons are colorful, give the butterfly effect when opened, and are mind-melting with sweetness. Spoiling your child a little bit only increases their love for you. So, spoil your daughter with this pack of 24 colorful macarons.
Daniella Crossbody Bag
Which daughter doesn't like fashion? The recent trends of apparel and accessories have got many girls wanting specialized purses and bags that they can flaunt.
The Daniella Crossbody Bag goes with the trendy style and has brilliant colors to choose from so that your daughter looks unique.
Fluffy Luxe Pillow
Living in a plush room is adored by all daughters out there, and as a father, you want your baby girl to feel like the princess she is. So, be the King and get her the Fluffy Heart Shaped Luxe Pillow and show her the love and comfort she deserves.
MAC Best Secret Lip Set
All girls love lipstick, and as a father, you do want your girl to look the best at parties and family gatherings. This Lip Set is made just for that.
Gift your daughter a set of enchanting colors to choose from. Just get on to amazon or your favorite shopping site and order one for her.
iSpecial Shower Cap for Women
Shower time is important to all girls. How about adding some value to that?
The iSpecial Shower cap is designed to perfectly repel water and save your daughter's hair on days she wants a body bath. Get this adorable shower cap on Amazon.
Mineral Me California Inspirational Message Bath Bombs Gift Set

Inspiration with every bath | Via Amazon
As we said, shower time is special for every girl, and it is the time to release stress and start anew. Now, you can add some motivation to that time with these Mineral Me Inspirational Bath Bombs.
The wrappers on these bath bombs have a motivational affirmations message each and will certainly lift your daughter's mood when you're away for work and can't do the same. Search for them on Amazon.
Imejewelry Custom Handwriting Bracelet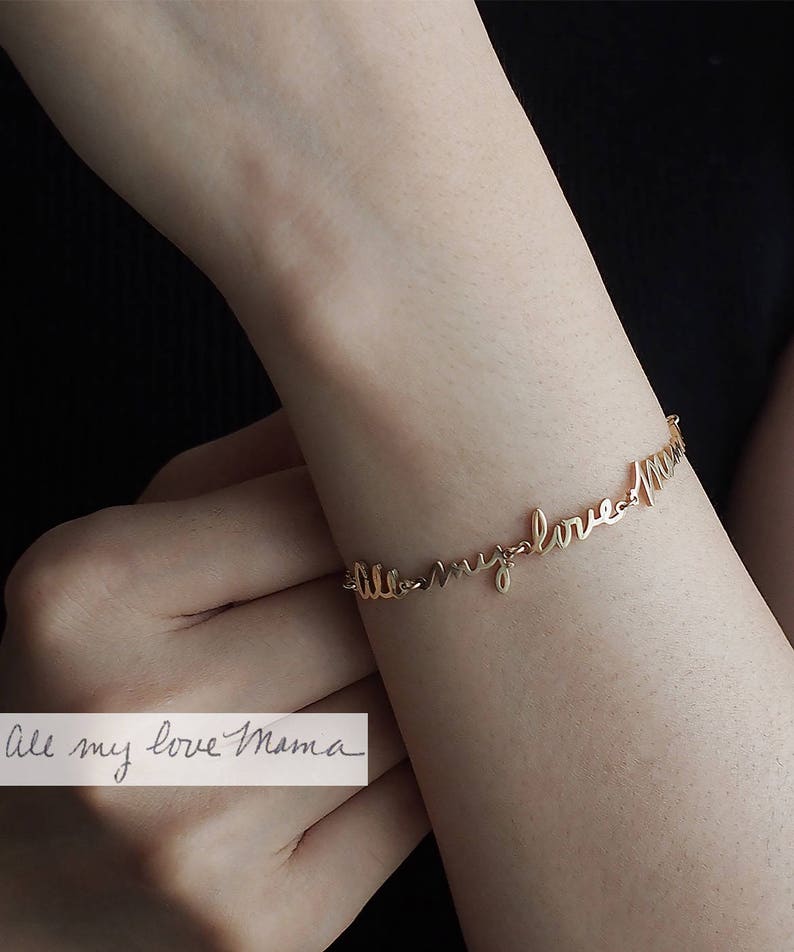 Handwritten Bracelet | Via Etsy
This one is for the sentinel fathers out there. You might have given your daughter many handwritten notes in the shape of cards and letters. With this custom jewelry on Etsy, however, you can turn your handwriting into a beautiful bracelet.
So, she can wear you on the wrist on her special days.
Chronicle Books Bad Girls Throughout History: 100 Remarkable Women Who Changed the World by Ann Shen
If your daughter is the bookworm of the family, this is the best way to get her hopes up. She will adore the thought and will love the topic.
Bad Girls Throughout History by Chronicle Books is about the badass women that brought a change in the world through perseverance. As a father, it is the best motivation you can gift your daughter. Find a copy on Amazon.
Lou Heart Huggies
Jewelry is always a timeless gift for girls. On the occasion of Valentine's Day, this is the best gift you can give to your daughter. The gorgeous heart danglers will make her look beautiful with any dress. These cute earrings by Gorjana are even priced reasonably.
Camera Case Classic Phone Case
iPhones are pretty delicate, even after the money they make. And girls never like to have a broken phone. So to protect your daughter's favorite device, give her this smartphone case that imitates a camera face.
The case is made of silicone and will always protect your daughter's phone and get her that funky look when she takes a picture. Search for the Camera Phone Case on Amazon.
Parachute Home Cloud Cotton Robe
If your daughter has been using the same sweatshirt around the winter, it's time to upgrade. This comfy and warm linen robe will be the best gift from her father. It will keep her warm and protect her from catching the cold.
The Home Cloud Cotton Robe also comes with a set of pockets which is missing from most female clothes.
Sperry SeaCycled Duck Float Boot

Protect the feet of your Princess in any situation | Via Amazon
There is a favorite list from the world's best talk show host Oprah Winfrey, and these Float Boots are on it. The Sperry SeaCycled Duck Float Boots are made of waterproof material and come with a waterproof shell. It is sure to keep your daughter's feet warm and dry in all conditions. Find them on Amazon.
Delish One Pan Cookbook
If your daughter is a budding chef, this is the perfect inspiration for her. Girls like to cook, but the cleaning becomes tiring. So, Delish's One Pan Cookbook comes with recipes that can be made in one pan.
It makes cooking easy for your daughter, and you can relish the dishes she makes.
Classic Mini Boot by UGG
Want to give your daughter something posh that she can flaunt? The Classic Mini Boots are perfect for any season.
For Valentine's day, they will bring out a very cheery reaction from your daughter. You can even choose colors like black or gray if your daughter is not into pink.
Strawberry Pound Cake Hand Sanitiser by Bath and Body Works
Protecting the child is most important for a father out there, cleanliness and hygiene are important.
The Strawberry Pound Cake Hand Sanitiser Pack is the best fit for your daughter's purse and has a lingering smell that will keep them feeling fresh.
Moon Lamp from Amazon

Bring her the moon | Via Amazon
Want your daughter to feel safe in the dark with a lamp that looks like the moon has been brought down to earth? This makes the Moon Lamp a great present for your daughter. Let her know she's the light of your life with this wonderful night lamp.
Faux Fur Throw Blanket
The main reason why you want to give a blanket to your daughter is to keep her warm and loved like a princess in your home. And the soft Faux Fur Blanket from Amazon does exactly that. Order the favorite color and give your baby girl a sweet night of slumber.
Dyson Corrale Hair Straightener
Here's a money-saving hack, if you have a teen daughter, she will want you to pay for that hair session. So, for a daughter that likes her hair straight and professional for stage appearances, the Dyson Corrale Hair Straightener is the perfect gift.
Essential Oil Diffusers from Amazon
Want to keep your daughter happy at home? Add an Essential Oils Diffuser. There are multiple designs and choices on Amazon for Essential Oil Diffusers with a lava lamp effect to keep your growing daughter calm and focused on the fragrance of nature.
Quartz Bonsai Feng Shui Tree
If your daughter is into rare beautiful natural objects, this quartz crystal laden Feng Shui tree will be a priceless Valentine's Day present. It will keep the good energies flowing whenever she looks at this Feng Shui Natural Rose Pink Quartz Crystal Tree.
Swarovski Iconic Swan Crystal Necklace
The Swarovski diamonds are perfectly crafted lab grown crystals, and the Iconic Swan Necklace is a sweet memento of a father's love for a daughter. Grab this off of Amazon and show your precious swan the love she deserves.
KORA Organics Rose Quartz Heart Facial Gua Sha
The main reason why stones are used to polish the face is that it keeps the skin glowing and moisturizing. You can show your nurturing love for your daughter with this Rose Quartz Gua Sha. It will heal your daughter from the stress of daily life and keep her glowing.
Haven Heart Gold Ring Set
The multiple ring is a jewelry fashion trend, and it is being fanned over by the girls. Valentine's Day calls for something precious and memorable for your daughter. Gift her the Haven Heart Gold Ring Set by Kendra Scott.
Truly Unicorn Fruit Whipped Body Butter
Unicorns are the favorites of almost every teen girl, and moisturization is their daily need. For your delicate little unicorn, Truly Unicorn Fruit Whipped Body Butter is a beautifully unicorn-colored moisturizer with the smell of fruits and roses and the goodness of chia with collagen.
NAILS INC. Naked In Neon Nail Polish Set
Nail polish is something to have fun for your teenage daughter, so give her the fun colors to experiment with. The Naked Neon Nail Polish Set is a brilliant combo of colors by Nails INC. for some glow in dim lights.
Wear Me Sunglasses by Amazon Choices
When exploring the world, sunglasses are important wearables to carry for your daughter. The trendy round lens Wear me Sunglasses are one of the most durable and fairly priced eyewear for girls on the go.
Choose the most suitable color for your dear girl and protect her sight from harmful rays.
Crazy Lady Fuzzy Cross-Band House Slippers
If there is a list of giving your baby girl a plush life, the soft Fuzzy House Slippers would be on every father's list. best-in-class house slippers for your daughter's supple feet. They are available in different colors to fit her favorite color scheme.
Martha Calvo All or Nothing Phone Charm Bracelet

Charm up her day and phone | Via Net-a-Porter
Phone charms are the hype for school and college students. They come in all materials and shapes, like a pendant or band, but the most popular are the beaded Bracelet-shaped phone charms.
The All Or Nothing Phone Charm Bracelet by Martha Colvo will have your daughter's phone standing out from the crowd.
KENDALL + KYLIE Women's Vegan Leather Jogger
Kendall and Kylie are indeed the hype amongst women who have the will to move and make their dreams come true. This is why the fashion of the two popular women appeals to them.
Gift these cruelty-free Vegan Leather Joggers to your daughter and make her feel confident and sporty.
LED Mirror Digital Alarm Clock with Charging Ports

Get her the clock that starts a day with a special click| Via Amazon
Who said girls couldn't be geeks for gadgets? They would love something techy like an advanced age Mirror Digital Alarm Clock.
The LED clock comes with two USB charging ports and auto brightness adjustment to keep her phone charged as she takes a nap to charge herself for the next day.
Benevolence LA Plush Velvet Travel Jewelry Box
You might have spent many important occasions with your daughter and must have given her different kinds of jewelry to make her feel like a Princess, this year you can give her a plush accommodation for all of them.
The Benevolence Plush Travel Jewelry Box is the perfect jewelry-holding partner for your daughter when she's traveling.
Wrapping Up
We hope this blog will make you pick the perfect gift for your daughter this Valentine's Day. The gifts mentioned above will surely bring a smile to her face and love in your heart. Don't forget to add some quality time with the right gift. It would be even more special! Happy gifting!